Camp staff who are teaching Outdoor Living Skills and Campcraft are encouraged to attend. Join us as we intertwine curriculum review of the skills and skill levels as introduced in the Art of Outdoor Living book published by The Maine Summer Camps (MSC) member organization.  Staff teaching curriculum for Junior Maine Woodsman, Maine Woodsman and Junior Maine Guide will find this particularly helpful.
We will provide time for instruction and practice of skills to build instructor confidence and will cover teaching methods and some nature/natural history. Safety and proper care and use of equipment while used in the outdoors will be emphasized. For more details on skills covered and goals, Click to view the WYO – 3 day OLS Clinic curriculum.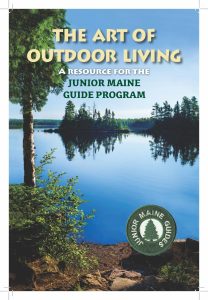 There will be one outdoor overnight campsite experience on the Wyonegonic property including outdoor cooking and encampment. Participants should bring their personal gear and their copy of The Art of Outdoor Living (books will be available for purchase at cost of $34). Food and group campsite materials including tents are provided. Canoeing and first aid skills are not included in this training.
Instructors: Ginny Geyer and Katie Curtis. Both are Junior Maine Guide testers, experienced instructors and Katie is a Registered Maine Guide.
Dates: Friday June 17 9:00am – Sunday June 19 4:30pm
Cost: $130.  (Books can be purchased for $34 for participants who do not have their own copy.)
Certification: This is not a certification course.  At the end of the workshop, participants will be provided with a checklist of skills covered and written feedback from the instructors that can be provided to Camp Directors.  This is an example of documentation that can be added to a participants documented experience and staff skills verification for specialized activities (ACA standards ST.8 and ST.33).