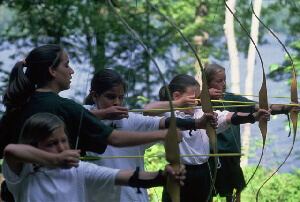 Instructor: Lucy Morris,  New England School of Archery and Supplies
Purpose:
To improve the safety and quality of archery instruction to individuals and small groups in a camp setting
To review archery techniques
To give instructors confidence in teaching
To learn to motivate and vary daily program
To care for equipment and make repairs
To comply with ACA Accreditation Standards and state licensing regulations.
Dates:
Archery Course 1:  Thursday June 16th starting at 8:30am – ending by 7:00pm (or when testing is complete)
Archery Course 2: Friday June 17th starting at 8:30am – ending by 7:00pm (or when testing is complete)
Cost: $220
Prerequisites: The minimum age for the Level I course is 15. However, when conducting an archery class, those under the age of 18 are required to have an adult (18+) supervision.
Certification: National Archery Association – Level I. Valid for three years from date of issue.
Note:  Full attendance and participation is required. Mandatory online coursework must be completed 2 days prior to attending the in person training.  Plan for anywhere from 3-8 hours to complete the pre-course work (time varies based on prior experience or familiarity with material).  We plan to release access to the online training 2-3 weeks prior to the in person training.